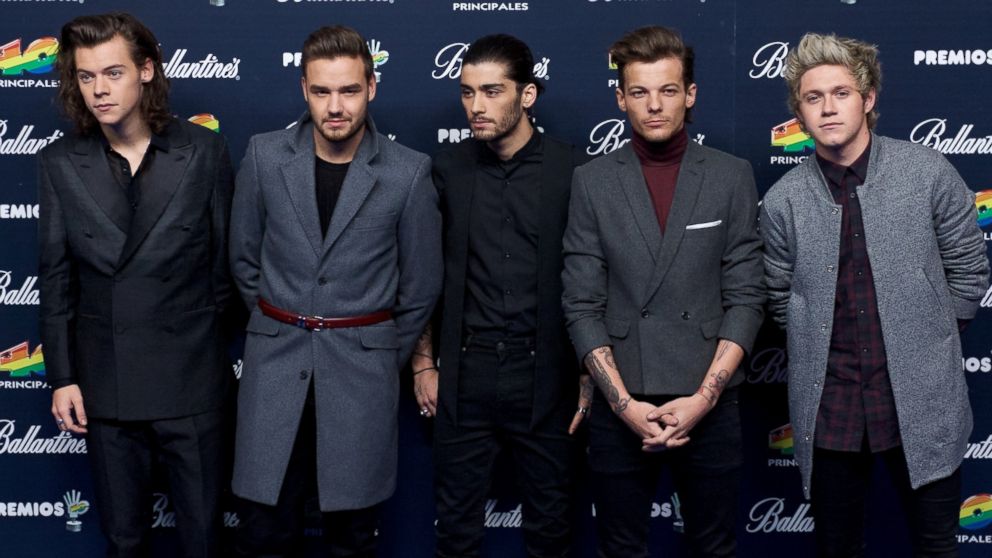 One Direction
will play on, despite losing a member of the band. But the question remains -- will it ever be the same?
Zayn Malik
, 22, announced Wednesday that he was leaving the popular British boy band after five years because, "I want to be a normal 22-year-old who is able to relax and have some private time out of the spotlight."
Though the remaining four members -- Louis Tomlinson, Liam Payne,
Harry Styles
and Niall Horan -- have vowed to carry on as a foursome, recording their fifth album, to be released later this year, and continuing on to the next stage of their world tour, it will be interesting to see if they will "continue to be the best band in the world," as Malik predicted in his statement.
Lyndsey Parker, Yahoo! Music's managing editor, said Malik's exit comes at an interesting time for the group, just as it was beginning to evolve with a more mature sound.
"Can this band continue without Zayn?" Parker asks. "Yes, but it probably won't ever be the same."
Even though Malik was probably not as well known as Styles and Horan, his departure will be felt.
"They're all important," Parker said about the members of the group. "Unlike more traditional bands like Coldplay, where you only know the lead singer by name or face...boy bands are built on the fact that everyone has a favorite. It won't be the same but that doesn't mean it can't continue."
The question is for how long.
"These bands have a very short shelf life anyway. Very few boy bands are around for 10 or 20 years," Parker said.
Which brings up another question for Malik: "Why not just ride it out, and make as much money as you can and retire at 27?"
"We don't know if a band like One Direction was going to have a really long term future anyway so it seems a little short sighted for him to give it up now," Parker added.
Plus, Parker said, the group was starting to get some artistic recognition for its last two albums.
"This is a group that came together via a singing competition and they don't really get credit for fact that they can actually all sing," she said. "People were starting to see that they were evolving and sort of losing the boy band sound and having a more mature sound."
She added, "One direction did have the potential to cross over a little bit into more serious territory."
So was Malik wanting to go in a different direction or plot his own solo career?
"I don't get the impression from the statement that Zayn made that he necessarily was wanting to leave for artistic reasons, to pursue his own musical path," Parker said. "I'm sure everyone in a boy band kind of hopes that they can be
Justin Timberlake
or
Michael Jackson
."
Instead, Malik claim he just wants to be a "normal 22-year-old."
"How many normal 22-year-olds would change places with him in a heartbeat," Parker wonders.
Then again, few of us can understand the life that Malik has lead these last five years, nearly a quarter of his life, making four albums in five years, touring endlessly, his life constantly in the public eye.
When he announced last week that he was leaving the group's tour to "recuperate" at home in the U.K., there were reports that his relationship with his fiancée, Little Mix Perrie Edwards, was strained. Now, she's being called the "Yoko" of the band, referring to John Lennon's widow
Yoko Ono
.
One person who seemed to understand was former Ginger Spice Geri Halliwell, who left the
Spice Girls
at the height of their popularity, much like Malik is doing with One Direction.
Halliwell sent out a tweet yesterday that seemed meant for Malik.
As Halliwell herself knows, nothing is final. Just as the Spice Girls reunited 10 years later, Parker predicts the same for One Direction.
"They will probably put out one or two more albums to diminishing returns -- commercially they've already peaked, 'Four' was not as big as the one before," she said. "I'm predicting they'll all go their separate ways. They'll attempt solo careers, some more successful than others... Then in five, 10 years there's going to be a One Direction Unity Tour. It will happen. Every band reunites. I'm sure
Simon Cowell
is already plotting."